IM OSTEN N̶I̶X̶ NEUES
WestGermany
Skalitzer Straße 133, Berlin
1. – 3.10.2021
𝗢𝗽𝗲𝗻𝗶𝗻𝗴: Fr., 1.10., 17 Uhr
Opening hours:
1.10., 17 – 20 Uhr
2. + 3.10., 13 – 20 Uhr
Concerts: 1. + 2.10., 20 Uhr
Reading & Screenings: 2. + 3.10., 17 Uhr
with: Lisa Maria Baier, Melo Börner, Matthias Demel, Franny Fränzen, Lucie Freynhagen, John, Paul, George, Ringo & Richard, Nastasja Keller, ( . . . ), Philine Kuhn, Nadja Kurz, Julia Kiehlmann, Kryptkeeper, Patrick Liebach, Mila Panić, Ricaletto, Sebastian Roos, Marten Schech, Matti Schulz, MC Müllsaft, Willy Schulz, St. Toupet, + Special Guests
We ask for 𝗿𝗲𝘀𝗲𝗿𝘃𝗮𝘁𝗶𝗼𝗻𝘀 for the events (max. 130 people) via 𝗴𝗼𝗹𝗳𝗽𝗹𝗮𝘁𝘇𝗮𝗿𝘁𝘀𝗽𝗮𝗰𝗲@𝗼𝘂𝘁𝗹𝗼𝗼𝗸.𝗰𝗼𝗺
Admission with 3-G.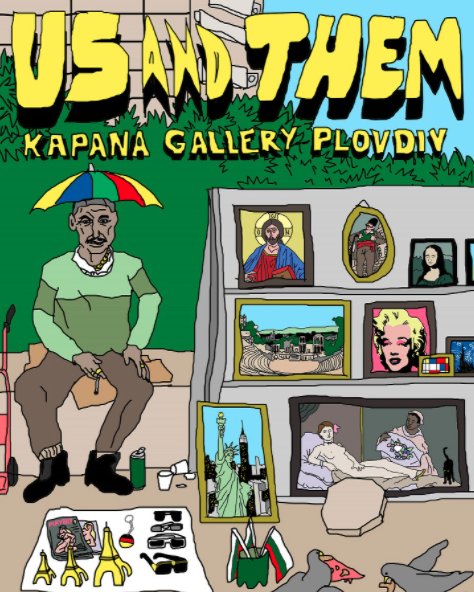 Us and Them
Kapana – City Gallery, Plovdiv
Duration: 01.10. – 07.11.2021
Part of the Legacy Programme of Plovdiv 2019, supported by Municiapality Foundation Plovdiv 2019 and IFA – Institut für Auslandsbeziehungen
In everyday language, as in everyday life, a distinction is quickly made between 'us' here and 'them' there. US and THEM are perhaps those artists, who live in one of the art metropolises of the art world, and those, who live and work in Bulgaria on the so-called periphery. Perhaps these are also those, who work in neighbouring countries.
The exhibition questions such subdivisions. It shows works that can be located via the individual biographies, but which address generally important topics in their subject matter. Boundaries that determine who the one and who the other are, lose their clear contours.
The presented artistic positions reflect questions of existence, being part of a community. They are characterized by diversity, variety and accepted contradictions.
Mediterranea 19  Young Artists Biennale
San Marino 2021
School of Waters
Curated by A Natural Oasis? A Transnational Research Programme
Duration: 14.5-31.10.2021
Even at a moment of standstill, Mediterranea 19 continues to research and dialogue with the artists with the aim of expressing the Biennale and its ecological potential in a collective transitory space, a waiting room hosting the preparations for next year's event in San Marino.
The curatorial team of School of Waters, driven by the symbolic agency of waters, conceived an editorial platform which functions as a digital wetland: a breeding ground wherein ideas foster, processes collect and multiply, generating syncretisms that gradually build the ecosystem of Mediterranea 19.
www.bjcem.org
Touched Land – Šiluva Art biennial
Šiluva , Lithuania
Duration: 13.6. – 30.10.2021
menopiligrimai.lt
Interview for Nezavisne Newspaper
Read the interview (in Serbian) 
Winner of ZVONO Award 2020 – YVAA  The Young Visual Artist Award for young visual artists from Bosnia and Herzegovina up to the age of 40. The ZVONO Award for the award winner consists of a two-months residency in New York at Residency Unlimited.
Interview for BOMBASTIC No.1 Issue
Read here
The fifth episode of the Art Next Door features Centrum and SomoS. The first part is an interview with Centrum's artistic director Jorgina Stamogianni, curator of sound Katerina Gnafaki, and artist Mila Panić. We discussed about Centrum's 2020 programming and Mila's current project Tante aus Deutschland (Aunt from Germany) at Centrum Berlin.
Artist in Residence program Celeia, Slovenia

2021
Gallery of Contemporary Art
Trg celjskih knezov 8, 3000 Celje
+386 (0)3 42 65 156
Tuesday – Saturday 11 a.m. – 6 p.m.
Sunday 2 p.m. – 6 p.m.
www.csu.si
Short insight with taz (german)
www.taz.de
Interview for the Goldrausch Künstlerinnenprojekt (german)
View the catalogue 'Wonderful life', 2019