False Clouds
Link
The group exhibition highlights different forms of environmental pollution.National Museum of Bosnia and Herzegovina
10 September — 20 October 2022
Opening: 9 September 2022
curated by Gabriela Manda Seith
Fotogalerie Friedrichshain and analogueNOW! are pleased to announce their first curatorial collaboration, and invite film photographers and artists working with analogue techniques to participate in their upcoming international group exhibition on the theme Transition.
2.9.-28.10.2022
DeLIGHT
Screening Event in Magdeburger Alle
19-26.10.2022
Erfurt, Germany
Along the "longest shopping street in Thuringia", the Magdeburger Alle, an eight-day projection exhibition and an educational project on the subject of sustainability are being created. Contemporary digital and media art from Thuringia and Germany is presented in shop windows, shops and on house walls.
Works of art are shown that reflect, comment on or illustrate the 17 sustainability goals or Sustainable Development Goals (SDGs) . The videographs and audiovisual works were selected from a variety of different submissions. Visitors are invited to engage with the Sustainable Development Goals of the United Nations through inspiring animations, irritating visuals or informative art films. A large number of talks, workshops and tours also enable a more individual view of the abstract topic of sustainability. More detailed information will follow.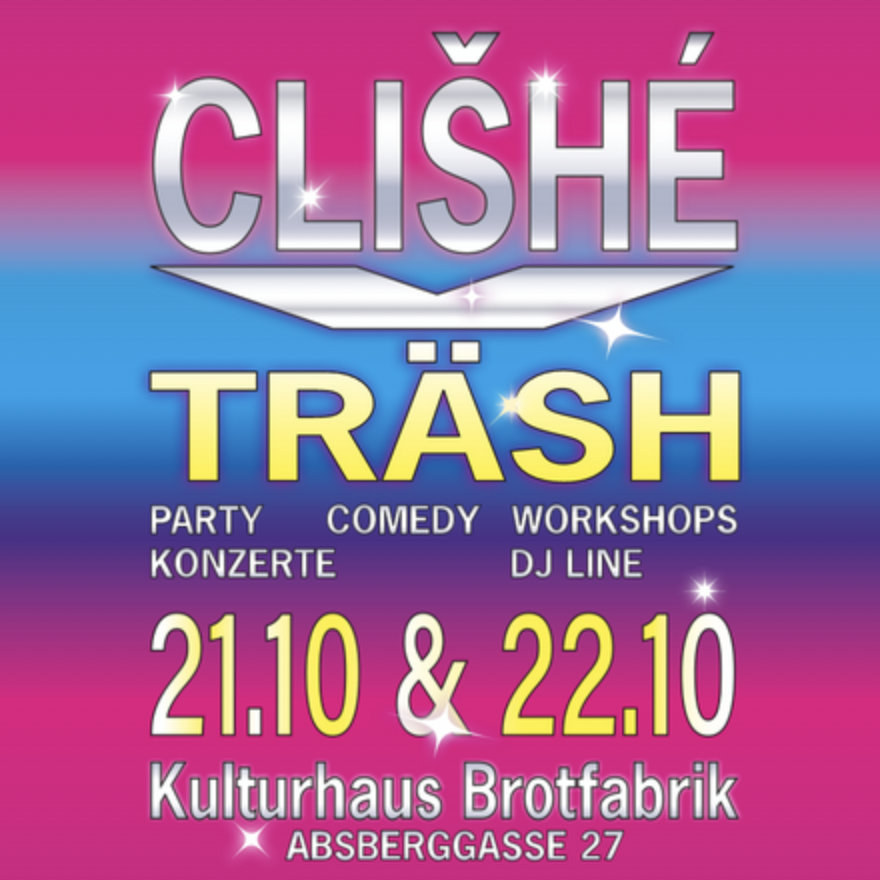 CLIŠHÉ TRÄSH
Festival
Comedy, Konzerte, Performances, Workshops, DJ Line, Party
Fr., 21./Sa., 22. Oktober 2022
Kulturhaus Brotfabrik
Absberggasse 27, Stiege 3, 2. Stock, 1100 Wien
Program
BROKEN ENGLISH PODCAST
hosted by Mila Panic
Listen on Spotify
Listen on Apple Podcasts
Listen on RSS.com
Also find it everywhere else
The 'Broken English Podcast'
Among various topics related to language, one of the goals of this podcast is to find comfort in listening to broken English.
In different episodes we explore topics such as second language, native languages, "polluting" English as an act of protest, class-related aspects of language, rejection of correct pronunciation, and is there purity in any language? Writing and to what extent should we correct ourselves, job applications, double translation, accents, etc. We take the liberty to go in different directions, e.g. humor, work, immigration, or to cover topics from different regions of the world. We do not apologise for our broken English.
Cover design by Uroš Pajović
Braunschweig Projects 2022/23: Artist Funding of the State of Lower Saxony at the University of Art Braunschweig (HBK Braunschweig)
The scholarships are part of the promotion of young artists by the university and the state. They are aimed at artists who would like to work on a project in the immediate vicinity of the HBK Braunschweig. With their project proposal, the scholarship holders should make a significant contribution towards the further development of forms of artistic practice.
1.6.- 31.3.2023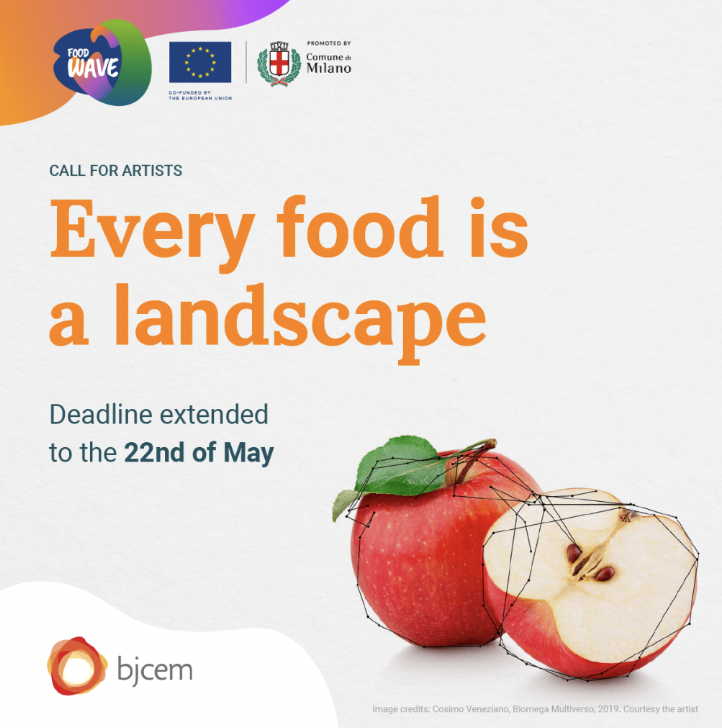 Every food is a landscape
December2022
Beeozanam, Turin, Italy
The objective of the project is to nurture the relationship between food and landscape in order to define a series of reflections on how the ways of food production and consumption transform the landscapes of the Euro Mediterranean cities as well as Brazil and how, through radical choices or alternatives to the invasive ones of globalized production, individuals and communities can choose to preserve the territory through solidarity and the promotion of sustainable food systems. The core of the project is the reflection on food production, on human and natural supply chains that this process sets up.
Group exhibition
'Mit ein bisschen Glück gross gewinnen'
@ galerie-im-saalbau.de
curated by Uroš Pajović
2022
Karl-Marx-Straße 141,
12043 Berlin
'Echos of leaving and returning'
Binaural Nodar's artist residency programme
26.6.-8.7.2023
Etc. magazine Issue no. 1: Significantly Local
Publication and exhibition
Ljubljana, Slovenia
Etc. is a magazine published annually, dedicated to showcasing current artistic production from the Baltic to the Balkans. Based in Ljubljana, Slovenia, each issue is dedicated to a relevant topic in art and life. Founded to promote emerging artists, its goal is to initiate a dialogue, inspire collaborations, and challenge set views.
RU Talk: METES AND BOUNDS #3, synapses and time-lapses
LINK to Virtual Talk 

Metes & Bounds, a series of online talks moderated by RU guest curator  Lilia Kudelia, with the laureates of the Young Visual Artist Awards, continues with a conversation between incoming 2022 RU artists Mila Panić and Žarko Aleksić.
2022
Interview for Nezavisne Newspaper
Read the interview (in Serbian) 
Interview for BOMBASTIC No.1 Issue
Read here
The fifth episode of the Art Next Door features Centrum and SomoS. The first part is an interview with Centrum's artistic director Jorgina Stamogianni, curator of sound Katerina Gnafaki, and artist Mila Panić. We discussed about Centrum's 2020 programming and Mila's current project Tante aus Deutschland (Aunt from Germany) at Centrum Berlin.
Short insight with taz (german)
www.taz.de
Interview for the Goldrausch Künstlerinnenprojekt (german)
View the catalogue 'Wonderful life', 2019
UKRAINE: Emergency Temporary Relocation Resources for artists and cultural workers
LINK
!PLEASE SHARE!