The Inhabitants: Adopt a Project
On Becoming Hubs
Non-Artistic Labor in Residencies
January 17, 2021
11.00 CET
Registration for the Zoom link: bit.ly/aap-talk2

The Inhabitants: Adopt a Project is an experimental proposition that aims to challenge the
selection process of a residency program. Questioning on the localities, materiality,
methods, and engagement in delivering residency programs, The Inhabitants: Adopt a
Project is a web platform for artists to publish their project proposal to be "adopted" by
residency organizers. This method is experimenting how artists and art organizations see
proposed ideas and connect it to their own locality–to examine which one is more appealing
to them, to understand why some projects are to be realized "offline" and not online, and
finally to propose a different perspective of the residency programs.

be/coming/home: Berlin, capital of exiles?
Online opening: 10.12.2020, 18.30h, with artist talk and music performance
Open until: 22.12.2020
Participating artists: Ayat Najafi, Carmel Alabbasi, Mila Panic, Mohammad Al Bdewi, Ruba Salameh
Organised by dis:orient
Ten years after the self-immolation of Mohammad Bouazizi, dis:orient e.V. is planning a small exhibition for the anniversary of this beginning – a revolutionary process that has been transforming the world and our city until today. Berlin is being asserted as a center for Arab culture and politics, the 'Capital of Exiles' as writer Amro Ali called it. The exhibition, thus, looks at Berlin as a place of exile and home-making: What is exile? Which identities, visions, and memories permeate Berlin as a place for (of?) the displaced? What are the possibilities and struggles of being here?
The exhibition will take place from the 10th of December and will be located in various publicly accessible venues that resonate with this theme. The artefacts and individual works exhibited in these different places across Berlin shall be connected through an audio walking guide that will lead the visitors from one venue to the other. Thereby we want to make issues of exile and migration accessible to a wider public and enhance the visibility of marginalised voices.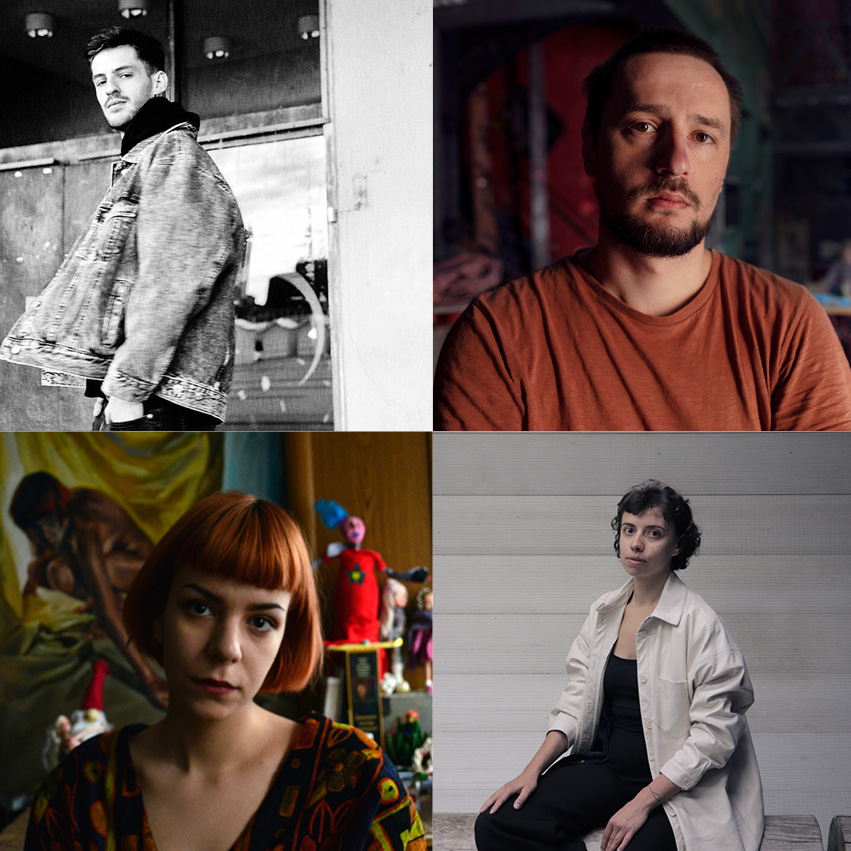 ZVONO Art Award 2020/21 finalist
The ZVONO Award – YVVA The Young Visual Artists Award in Bosnia-Herzegovina (BiH)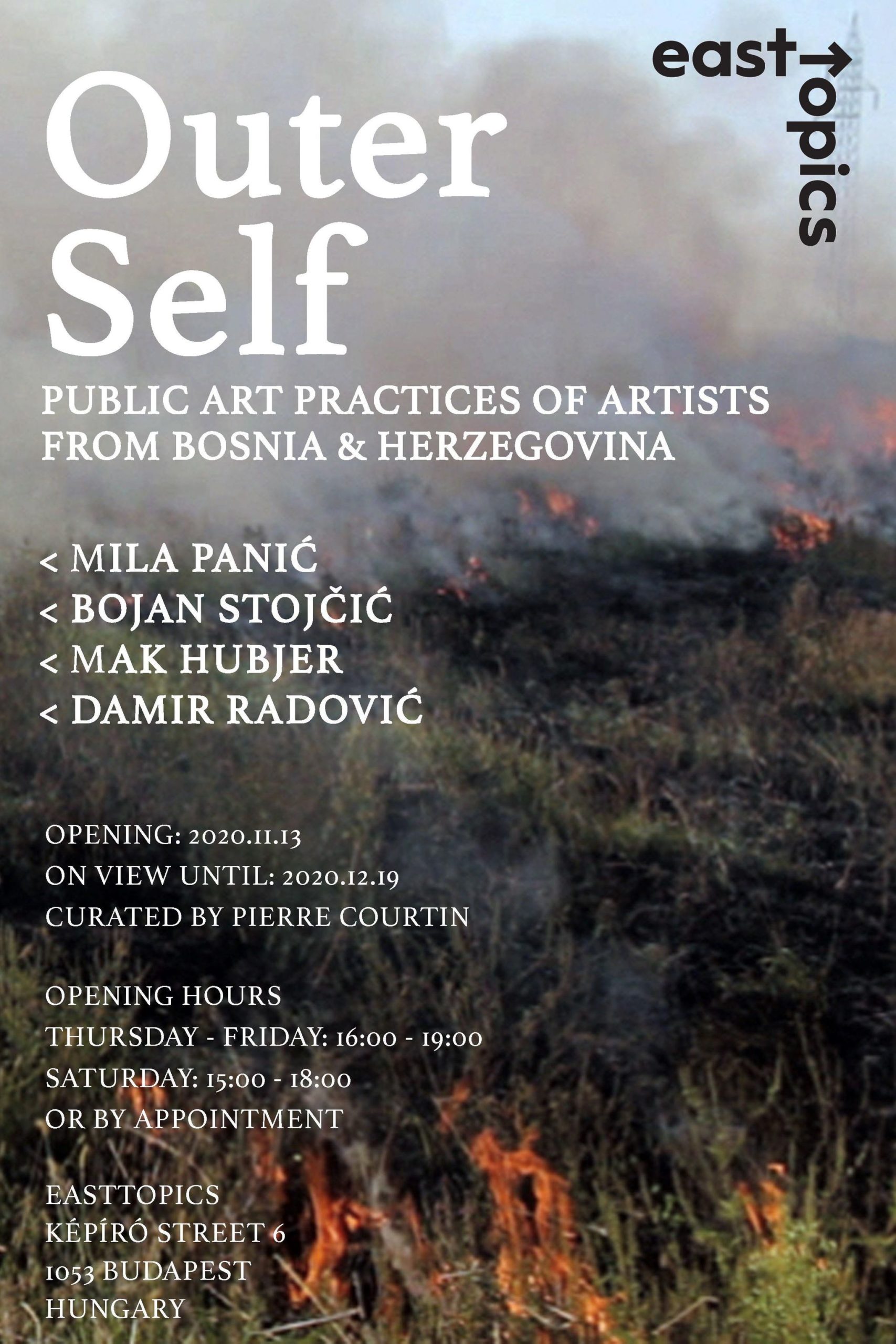 Outer Self
Public Art Practices of artists from Bosnia and Herzegovina
Opening: 13.11.2020
On view until: 19.12.2020
Curated by Pierre Courtin
Easttopics is proud to present Outer Self, a group exhibition focusing on the public art practices of young artists from Bosnia and Herzegovina. After the first lockdown that left inerasable marks in all of us earlier this year in Spring, we are now expecting a second period of isolation, that together with the cold Autumn weather, will substantially limit our freedom of movement once again. As a way to counter the past and upcoming physical distancing and retreat from public spaces, the exhibition Outer Self proposes to stroll around public art practices of young artists from Bosnia, not only as a poetic series of actions reflecting on the current pandemic situation, but also on the trauma of the Balkan War, when the simple fact of going outside, in the open space, was life threatening. This exhibition features four artists who (re)occupy and re-appropriate public spaces.
In her practice, Mila Panić (1991) usually explores phenomenology of place and the expanded notion of belonging including the concept of in-betweens. Her installation entitled Strawberry Field (2018) made from strawberries picked from a recently cleared minefield and her video Burning Field (2017) are two connected art works that both deal with issues of displacement, anxiety as well as collective and personal responsibility. Examining lineages, poetics, traces and transitions of the present as well as its political modalities, but also embracing and examining its post-ideological performativities, Bojan Stojčić (1988) often intervenes into a contextualized everyday, liberating the image of its graphic manifestations while complimenting its form and surrounding narratives. The series of photographs entitled No traces promises the path (2013-), the ongoing project Seeking for a person (2013-) and the iconic photography Viva la transition! (2015-2020), the young artist processes feelings of abandonment, loneliness and the loss of synchronicity with his environment. Dissecting political and social subjects through performative and visual media, Mak Hubjer (1993) presents two videos, Clear Conscience – MH FT DB (2016) and Clear Conscience – MH FT NSS (2018), both elaborating on the concepts of remembering and forgetting the traumas of the past through our relationship to monuments, inevitably linked with public spaces but also invisibility and neglect. Finally, in the frame of his work nourished by a humoristic view on social and political topics, the ongoing project of Damir Radović (1976) entitled Paradoxical Sleep and initiated in Sarajevo in 2007, shows the artist performing extreme sleeping sessions in outdoor, noisy, unprotected, bright and cold spaces, being exposed to all weather conditions and the curiosity of all passers-by.
The exhibition Outer Self, conceived as the first part of a long term series of interventions which will be continued in Paris and Sarajevo, is curated by Pierre Courtin, founder and director of Duplex100m2, an exhibition space based in Sarajevo until 2018.

EASTTOPICS
1053 Budapest, Hungary
6 Képíró Street
www.easttopics.com

The fifth episode of the Art Next Door features Centrum and SomoS. The first part is an interview with Centrum's artistic director Jorgina Stamogianni, curator of sound Katerina Gnafaki, and artist Mila Panić. We discussed about Centrum's 2020 programming and Mila's current project Tante aus Deutschland (Aunt from Germany) at Centrum Berlin.
Artist in Residence program Celeia, Slovenia

2021
Gallery of Contemporary Art
Trg celjskih knezov 8, 3000 Celje
+386 (0)3 42 65 156
Tuesday – Saturday 11 a.m. – 6 p.m.
Sunday 2 p.m. – 6 p.m.
www.csu.si
Mediterranea 19  Young Artists Biennale
San Marino 2021
School of Waters
Curated by A Natural Oasis? A Transnational Research Programme

The current crisis has made it necessary to postpone the official opening of Mediterranea 19 Young Artists' Biennale until 2021.
Specific dates will be announced in due time.
Even at a moment of standstill, Mediterranea 19 continues to research and dialogue with the artists with the aim of expressing the Biennale and its ecological potential in a collective transitory space, a waiting room hosting the preparations for next year's event in San Marino.
The curatorial team of School of Waters, driven by the symbolic agency of waters, conceived an editorial platform which functions as a digital wetland: a breeding ground wherein ideas foster, processes collect and multiply, generating syncretisms that gradually build the ecosystem of Mediterranea 19.
www.bjcem.org
Short insight with taz (german)
www.taz.de
Interview for the Goldrausch Künstlerinnenprojekt (german)
View the catalogue 'Wonderful life', 2019